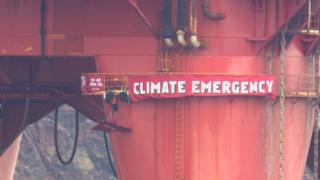 An RNLI lifeboat and Police Scotland marine unit were deployed to a rig in the Cromarty Firth occupied by Greenpeace campaigners.
Police said the action was taken as a "precaution" and Invergordon lifeboat and the unit were later stood down.
The Transocean, under contract to BP, was due to leave from near Invergordon on Sunday, heading for the Vorlich oil field east of Aberdeen.
The operation was halted after campaigners boarded the rig.
Invergordon lifeboat was launched just before 13:30.
Greenpeace said: "We understand the police and RNLI boat approached the rig but made no attempt to board or arrest the activists on board who remain in place."
The organisation expects its campaigners to remain on the rig into Thursday "and beyond".
Greenpeace's occupation comes amid reports that a large dust cloud was seen coming from the rig on Saturday, a day before it was occupied.
On Tuesday, Transocean served an interdict on Greenpeace in an attempt to bring the protest to an end.
Workers on the rig had tried to deliver the legal document in a bucket on the end of a rope to the two campaigners.
Transocean has not commented on the interdict or on a separate report concerning the large dust cloud.
Local environmental campaign group Cromarty Rising said the dust could have posed a threat to wildlife.
The Cromarty Firth Port Authority said it was investigating after being made aware of the cloud.