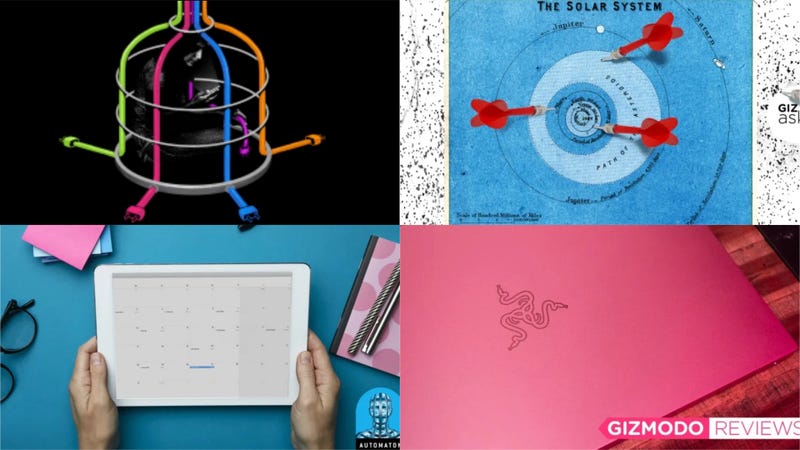 Image: Gizmodo, Getty
It's Super Bowl Sunday! There will be drinking (if you partake)! And wings (also if you partake)! And fervid screaming about sports! It's one of the biggest of days of the year for many sports fans. But reader, if this isn't you, no worries. Around here we know "super" pairs best with sci-fi, and this week we brought you a comprehensive guide to the best sporting events of your favorite fictional universes. (Speaking of sci-fi, keep an eye out for the biggest science fiction events we're looking forward to in 2019.)

Of course, we had plenty of other non-sports related good reads this week, like a series from Gizmodo's Kashmir Hill showing us what life would be like if we cut some of tech's biggest players out of our lives—and hoo buddy, it's definitely much, much harder than you might think. Seriously, check out what happened when Hill tried to block Microsoft, Facebook, Google, and Amazon.
We also invited scientists to make their arguments for the worst planet; we explored the case for automation enabling humans to work less; and we reviewed the new Razer Blade Stealth (which comes in the pinkest pink).
Check out these and more in Gizmodo's best stories of the week.

What's the Worst Planet?
The best planet is Earth, objectively, and I only say that because I live there. Other than Earth,…
Read more Read

Fake FCC Comments Linked to Ex-Trump Campaign Director's Org, Boosted By Roger Stone
An organization run by a former Trump campaign statewide director is being investigated by the New…
Read more Read

Defense of Amazon's Face Recognition Tool Undermined by Its Only Known Police Client
Faced with two independent studies that found its facial recognition software returns inaccurate or …
Read more Read

The Case for an Automation-Powered 4-Day Work Week
If the robots are indeed taking our jobs, shouldn't we all probably be working less? A movement is…
Read more Read


E-Cigarettes Really Can Help You Quit Smoking, Large New Study Finds
The debate over the potential harms and benefits of vaping has raged on for years. But the results…
Read more Read

Chicago Scrambles to Protect Its Homeless From Life-Threatening Polar Vortex
Sandi Robinson was sure to layer up before hitting the Chicago streets Monday night. Sweatpants?…
Read more Read


For 30 Days, I'm Going to Eat Like I'm Trying to Save the Earth
There is perhaps no greater sign of how broken humanity's relationship with the planet is than our…
Read more Read
How Zachary Levi's Run-ins With Marvel Helped Him Become Shazam
Zachary Levi believes he wouldn't be DC's Shazam without not one, but two assists from Marvel.
Read more Read


These Are the Major Sci-fi and Fantasy Movie Milestones Coming in 2019
There are a lot of amazing new movies coming in 2019, but there's also a long list of classic,…
Read more Read

Football Has Its Super Bowl, But These Sci-Fi Sports Are Actually 'Super'
As sports fans around the world gear up for this year's Super Bowl, you may think, what makes it so …
Read more Read



The Great Huawei Disconnect
Chinese tech giant Huawei is embroiled in numerous controversies including allegations of corporate …
Read more Read

iRobot's New Robot Lawn Mower Sure Looks Like It'll Piss Off Your Neighbors
After years of rumors, iRobot's finally announced its robot lawnmower: the Terra. Now, instead of…
Read more Read

Razer Blade Stealth Review: Compact, Powerful, Beautiful (and Pink!)
If you opt to go for the quartz version of the new Razer Blade Stealth, you may be distracted by…
Read more Read