The Apprentice may as well have been set in Moe's Tavern tonight (December 5) as candidate Sarah Ann Magson sank a boat load of booze.
This week's task was to create three new and exciting Christmas chocolates, with Sarah sent away by her team to deal with the manufacturing side of things. While in the factory, she found herself caught up in a concentrated alcohol haze, attempting to combine strong flavours to sell to the masses.
Advertisement – Continue Reading Below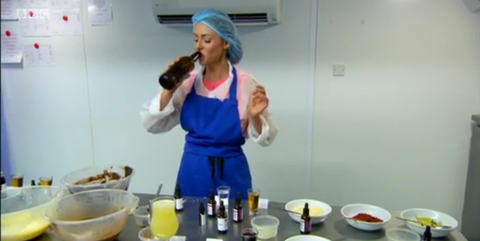 BBC
But as her time concocting the products went on, her sobriety seemed to fade away sip by sip.
She was even supervised by one of the factory's staff, who informed her that just one drop of the concentrated alcohol would be enough for each experiment. Sarah proceeded to unload triple that amount, turning the whole task into something of a free bar.
Viewers took to Twitter to celebrate Sarah's amusing scenes, with a host of them really relating to her decisions.
Advertisement – Continue Reading Below
Despite this boozy common ground between fans and Sarah, it didn't stop Lord Sugar delivering a hangover to remember.
Unfortunately for her, she became the latest candidate to be booted out of the competition.
Sarah had become something of a blunder-magnet during this series of The Apprentice. Last week, she and Daniel forgot to take their product to a promotional video shoot.
Let's hope the show's lack of Sarah doesn't instigate a boring end to the series.
The Apprentice returns next Wednesday (December 12) at 9pm on BBC One.
---
Want up-to-the-minute entertainment news and features? Just hit 'Like' on our Digital Spy Facebook page and 'Follow' on our @digitalspy Instagram and Twitter account.